Silkworm Food Plant Production Technology
Eri Food Plant Production Technology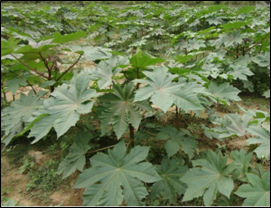 Castor, Ricinus communis
Land selection: Select sloppy well drained and fertile land, avoid water logged land..
Season:March- April and September- October (Pre and post monsoon).
Soil: Both acidic and alkaline soils are suitable.
Land preparation
Land should be ploughed 2-3 times to a depth of 20-25 cm and leveled for facilitating good rootpenetration and easy weeding.
20 x 25 x 25cm (Length x Breadth x Depth) size pits are to be prepared maintaining 1x1m spacing
In each pit, 1 kg well decomposed FYM is to be applied mixed thoroughly with soil
Seed treatment and sowing
Select mature seeds.
Seeds should be treated with Bavistin @ 2 g/kg seed to prevent fungal disease.
Two seeds per pit at a depth of 2.5–3.0 cm are to be sown.
Germination takes place after 7-10 days.
Only one healthy seedling per pit is to be allowed for vigorous growth after germination.
Cultural operation
Apply NPK@ 60:40:20 kg/ha as 1st dose after one month of germination at the base of the plants bymaking rings or along with FYM at the time of pit digging.
After 3 months, 30 kg N/ha and 1 kg FYM/plant should be applied for vigorous growth and yield.
Carry out hoeing and weeding whenever necessary (3-4 times in a year).
Leaf harvest
Make the 1st leaf harvest after 3 month of plantation.
Make 2nd, 3rd, 4th and 5th harvest after one month of preceding harvest.
Kesseru, Heteropanax fragrans
Nursery raising
Land selection:select well drained plain or sloppy land.
Season:February-March.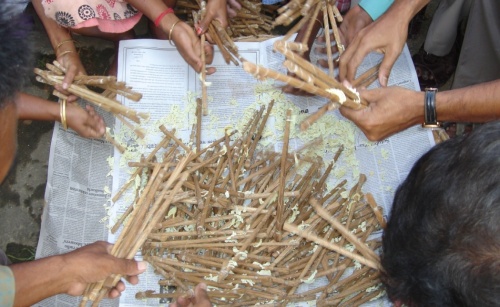 Nursery bed preparation
lough the land 2-3 times and level it.
Make 6 m x 2m bed and lift up to 15 cm above ground level.
Apply 6 cft FYM and sand to each bed, mix thoroughly with the soil and level it.
Leave the bed as such for 2 weeks.
Apply 0.1% Indofil-M45 and Forat BHC solution @ 20 l/ha 2 days before sowing and mix with the soil toavoid pest attack.
Seed collection
Cover the Kesseru fruit on the plant with nylon net
Collect the ripe fruit during February-March.
Store the fruit in shade for 1-2 days.
Soak the fruits overnight in water.
Rub the fruits with a gunny cloth.
Put the fruit in water and select only the sunken ones for sowing.
Seed sowing
Sow 800 seeds (2 seeds/pit) in each nursery bed maintaining a spacing of 15 cm (pit to pit) by 20 cm(row to row).
Mulch the seed bed with a thin layer of straw.
Irrigate regularly in the morning and late noon hours during dry season.
Provide a shed over the bed to protect from the direct sun light and hailstorm.
90% Germination can be obtained within 18-25 days.
Displace the mulch after 90% germination.
Displace the mulch after 90% germination.
Cultural operation
Carry out weeding at an interval of 20-30 days till the seedlings attain a height of 20-25 cm.
Spray 0.05% Rogor along with 0.1 % Indofil-M45 at an interval of 15-20 days to prevent leaf diseasesand pests.
Allow the seedlings to cover to a height of 4 feet and keep one seedling per pit.
Spray 10% urea solution 3 times at an interval of 15 days for vigorous growth.
Plantation in the main field
Land selection: Select high and sloppy land, avoid water logging.
Season: August- September.
Land preparation: Plough the land to a depth of 20-25 cm and level it.
Pit Digging and spacing
Prepare 30 x 30 x 30 cm pit at a distance of 2 x 2 m spacing (3 x 3 m spacing can be practiced tofacilitate inter cropping).
In each pit, apply 5 kg FYM and mix thoroughly with soil.
Transplantation and cultural operation
Six months old healthy seedlings (25-35 cm tall) are to be transplanted to each pit.
It is more preferable to plant on a rainy day.
Carry out hoeing and weeding whenever required.
Application of manure and fertilizer
Apply 5 kg FYM per plant once in a year during April. Apply NPK @125:75:25 kg/ha in two equal split
doses during April and September by ring digging method.
Pollarding
Pollarding is to be done after attaining the age of five years at a height of 1.75 m at slanting (45° angle)preferably during February.
Subsequent pollarding is to be done after the interval of 3-4 years.
Source:
Ericulture-a comprehensive profile 2013, Directorate of Sericulture, BTC, Kokrajhar-783370,Assam.
Package of practices of Muga, Eri and Mulberry Sericulture for North Eastern region of India, 2005,Central Muga Eri Research & Training Institute, Lahdoigarh, Jorhat, Assam
Dr. M.C. Sarmah, Shri B.N. Sarkar, Shri S. A. Ahmed, Dr. K. Neog, CMER&TI, Lahdoigarh.